The worldwide tablet market declined 0.6% year-over-year during the fourth quarter of 2019 (4Q19) as global shipments fell to 43.5 million units, according to preliminary data from the International Data Corporation (IDC) Worldwide Quarterly Tablet Tracker. For the full year 2019, the tablet market shrank 1.5% year over year as global shipments totaled 144 million units.
However, Apple maintained its lead in the holiday quarter, growing 22.7% year-over-year. The new iPad launched last quarter accounted for nearly 65% of the company's shipments and helped the company gain share to 36.5% compared to 29.6% last year.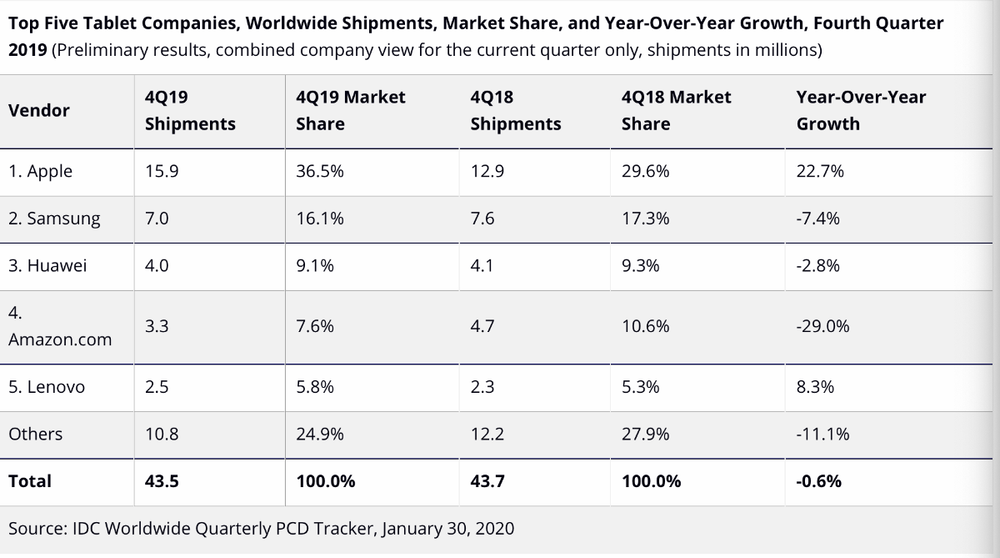 Samsung regained the second position despite another year-over-year decline in its shipments. The company shipped seven million units in the quarter. Even with growth across its detachable portfolio, mainly from the Tab S series, the company couldn't offset the decline from its slate tablets
Huawei shipped 4 million units in 4Q19 for a year-over-year decline of 2.8%. Amazon.com slipped to the fourth position during the quarter with a decline of 29% year over year. Lenovo was one of two companies in the top five that recorded year-over-year growth in shipments. Its share slightly increased from 5.3% in 4Q18 to 5.8% in the current quarter.