My name is Chris Leckness and I've decided to write a series of articles about my transition from Android to iOS for my old friend Steve right here on AppleWorld.Today!
I recently made a jump from Android (Google Pixel XL) to iOS (iPhone X) and it's been quite some time since I've used iOS as my daily device. I have had an iPhone 5C as my work phone but it's never on as I have my calls and text messages forwarded to my personal phone to avoid carrying two phones. Prior the iPhone X, the lastest iOS device that I used for more than a day or two was the iPhone 4, which I used for 6 months before returning to Android.
Before I start this series, I felt that it would be best to let the readers know where I come from and a little about me.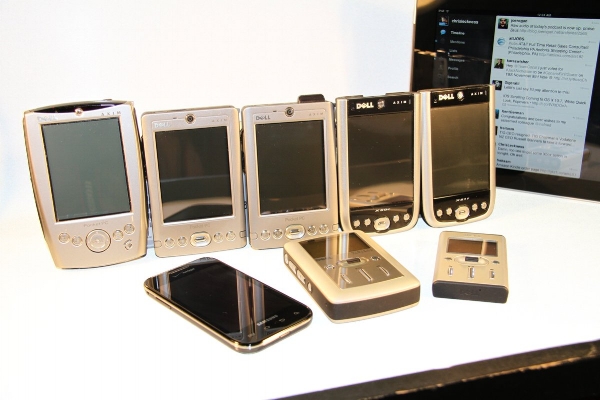 Who Am I?
Like I said, my name is Chris Leckness and I am from Tuscaloosa, Alabama. I am a middle aged guy that has been in the smartphone game since around 2004 when I attended my 1st Mobius event and we received the Motorola MPx220 (below) and the Orange SPV C500 smartphones, both powered by Microsoft's Windows Mobile for Smartphone 2003 Second Edition. Before these two phones, I was only interested in PocketPC. This opened up a new world and I was all about Windows Mobile Smartphones.
Over the next few years, I reviewed dozens of Windows Mobile/Windows Phone devices, I reviewed the 1st Android phone, the T-Mobile G1, and I even purchased the original iPhone on launch day in 2007.
I know Steve from the days of the PDA, back when I ran a site called Aximsite and he ran PDAntic. We attended Mobius Boston together back in 2006. Mobius was a Microsoft focus group where they flew out mobile pundits to discuss the future of the industry. Steve eventually became an Apple guy and I stuck to being a Microsoft guy.
As the PDA/PocketPC died out and smartphones took over, I stuck with Microsoft's Windows Mobile platform. I was a Microsoft MVP for PocketPC, then Windows Mobile, which eventually became Windows Phone for 8 years. My loyalty was to Microsoft and I was rightfully labeled online as a Windows Fan Boy. When the iPhone came out in 2007, I had to see what all the fuss was and I stood in line on launch day and bought one for myself and one to give away on my website. I used the iPhone for a week or two on and off, but didn't like it much. I still have this iPhone in mint condition with the original receipt from Cingular.
I eventually migrated my PDA websites, Aximsite and iPaqHQ into a general mobile website called Mobilitysite. We started talking about Android and iOS, but remained heavy on Microsoft. I went back and forth from Windows Phone to Android for a few years before leaving Microsoft behind for good. I ended up selling all my sites in 2010. I continued to write occasionally for friends sites until around 2012 where I pretty much fell off the face of the mobile world.
From 2010 to 2012, I bounced back and forth between Windows Phone, Android, and even iOS. I wrote a series of articles for GottaBeMobile.com about my transition from Android back to Windows Phone, but that didn't last very long before returning to Android.
From 2012 to now, I have been using Android exclusively. I moved through the Samsung Galaxy ranks from the Galaxy Nexus on Verizon to the Galaxy S6 Edge on AT&T. I used the Nexbit Robin for a year before getting the Google Pixel XL. I put the Pixel on Swappa.com last night after 2 days with the iPhone X.
I look forward to sharing my skeptical comments about this migration from Android to iOS with the AppleWorld.Today audience. It should be interesting to see if the reasons I didn't like the iPhone in the past are issues that won't bother me this time around. The iOS home screen hasn't changed much at all since then and this was one of my biggest complaints. Here's something I wrote back in 2012 about iOS.
On an objective level, I think iOS is due for a major refresh and feel that Apple should look out here on blogs to see what the jailbreak community is doing with their OS. Some of the themers that provide themes for jailbroken devices through Cydia are doing some awesome work and Apple should take notice.
Let's see what happens. Stay Tuned for more!
From Android to iOS: Introduction
From Android to iOS: Why Switch?
From Android to iOS – The 1st Day