Estimated retail revenues from recorded music in the U.S. grew 11.4% in 2016 to $7.7 billion in 2016, according to a report from the Recording Industry Association of America (RIAA). The primary driver of that growth was a doubling of paid streaming music subscriptions such as Apple Music, which helped the American music business experience its biggest gain since 1998.
At wholesale values, the industry was up 9.3% to $5.3 billion. Although RIAA's 2016 revenue report catalogues substantial overall improvement for the industry, revenues are still only about half what they were in 1999, and revenues from more traditional unit-based sales (physical products and digital downloads) continued to decline significantly.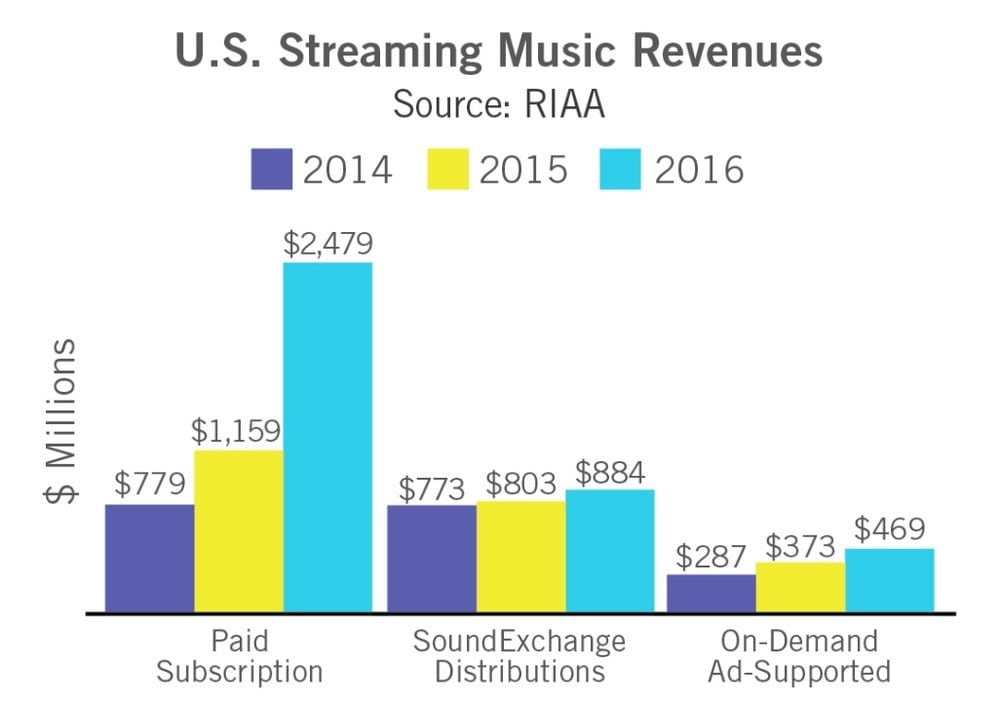 In 2016, for the first time, streaming music platforms generated the majority of the U.S. music industry's revenues. The streaming category includes revenues from subscription services (such as paid versions of Spotify, TIDAL, and Apple Music, among others), streaming radio services including those revenues distributed by SoundExchange (like Pandora, SiriusXM, and other Internet radio), and ad-supported on- demand streaming services (such as YouTube, Vevo, and ad-supported Spotify).
Total revenues from streaming platforms were up 68% to $3.9 billion. Streaming grew from just 9% of the market in 2011 to 51% of total industry revenues in 2016. Revenues grew across all the categories of streaming (paid subscriptions, SoundExchange distributions, and on- demand ad-supported streams).
On both a dollar and percentage basis, no format category grew as much as paid subscriptions. In 2016, revenues from paid subscription services in the United States more than doubled, up 114% to $2.5 billion. Paid subscriptions alone accounted for about one-third of total U.S. recorded music industry revenue in 2016. Growth was driven by very strong new user adoption, as the number of paid subscriptions to full on-demand services grew 109% to average 22.6 million for the year, compared with 10.8 million in 2015, notes the RIAA. Adoption was driven by growth from both new and existing services, as it was the first full year of results for Apple Music, and other leading services like Spotify Premium grew, as well.
In 2016, revenues from sales of digital tracks and albums declined faster than in any previous year. Overall digital download revenues were $1.8 billion, down 22% versus 2015. Individual track sales revenue was down 24%, and digital album revenue was down 20% compared with the previous year. Revenues from sales of digital albums were 49% of the download total, their highest share ever.
The RIAA is the trade organization that "supports and promotes the creative and financial vitality of the major music companies." Nearly 85% of all legitimate recorded music produced and sold in the U.S. is created, manufactured or distributed by RIAA members.