Qardio has been making a splash in the connected self market, first with its QardioArm Smart Blood Pressure Monitor (an Apple World Today top pick) and now with the QardioBase Wireless Smart Scale (US$149.99). Let's take a look at the QardioBase and what makes it different from all of those other "smart" scales that want to keep track of our weight.
Design
I like the looks of the QardioBase. Instead of the square shape of the Withings Smart Body Analyzer, QardioBase is round and thin. The top of the scale is actually the widest part, with the body tapering down in size to the base.
The base comes with four rubber feet, which I immediately had a bit of a concern about. Sure enough, Qardio had included four more feet if I felt that the QardioBase was too wobbly. I installed them, and now the scale feels very secure to step on and off of.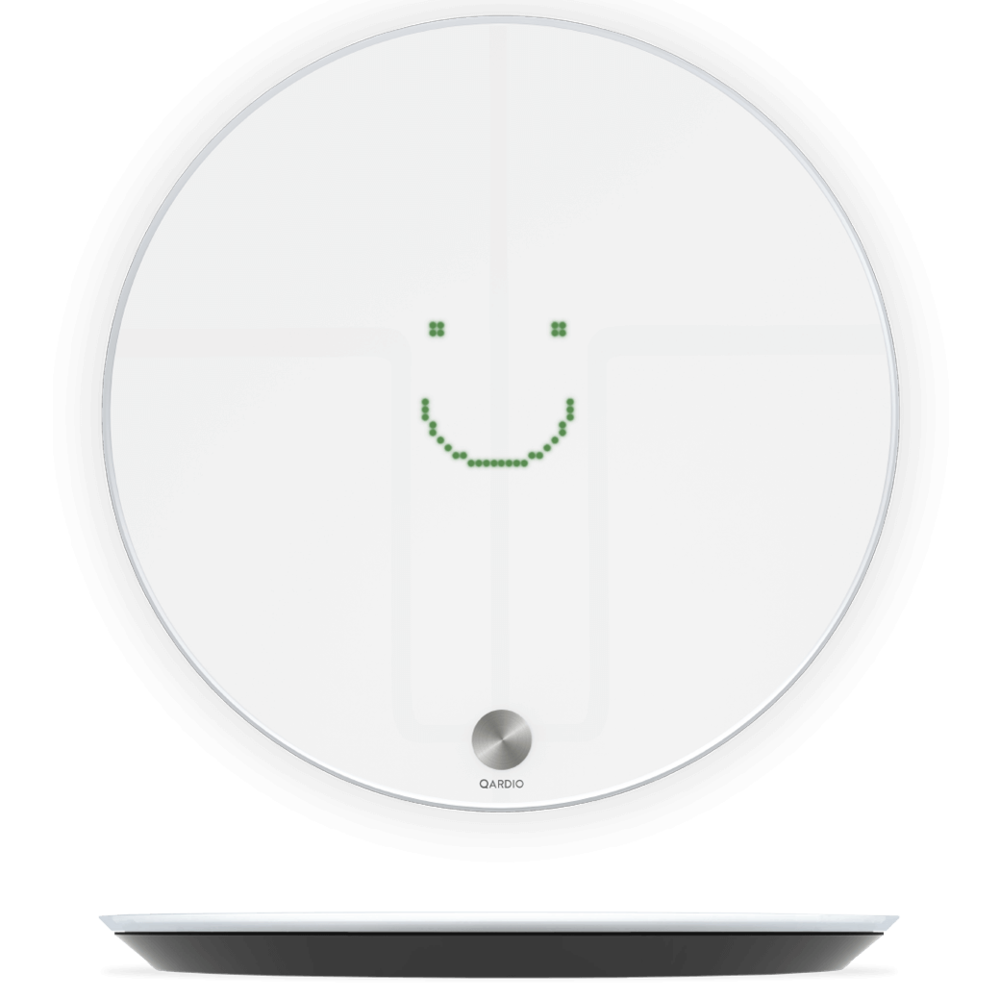 Unlike some of the other smart scales on the market, QardioBase doesn't have a "readout" — at least not one you can see. When you step on the device, it uses green LEDs below the surface of the scale to show you status, your name (helpful for multiple users), weight, percent body fat, and other prompts.
Also unique to QardioBase is haptic response. Sometimes when using other smart scales, I wouldn't glance at the display and really didn't know whether or not it measured my weight until I glanced at the scale's app later that day. Not so with the QardioBase. It gives you an initial vibration through the foot to let you know you're standing on the base properly, a second when it has determined who you are, and a third when it displays your weight.
Function
Most devices like this sink or swim based on the app that's used to set them up, display and chart your vitals, and synchronize with Apple's Health app. Fortunately, Qardio has that covered with its self-named app, which is used with both healthcare products.
I like the look of the app, which shows your most recent weight reading, percent body fat, percent muscle, and a "smiley face" that shows your current weight trend. In my case — and you'll notice that I am NOT showing you my weight, my goal, or any of that other info — it's displaying a smile because I've lost 0.2 pounds in the last week.
There's also a color scale that shows if I'm underweight (HA!), normal weight, overweight (ahem…) or obese based on body mass index. If I wish, I can add a note to a daily reading; for example, "don't eat an entire bowl of gorp again as your weight went up 2 pounds". The app also lists a daily history, and one can set reminders to weigh in on a particular day or time.
The QardioBase can be configured for any one of four modes. The Normal mode tracks weight, BMI and body composition. For those who have implanted devices that can be disrupted by the slight electrical current that's run through your feet for the body composition measurements, the Weight Only mode weighs you without doing the body composition readings. Smart Feedback mode provides facial expressions on the QardioBase's display, so you'll see a smiley face if you're losing weight or a frowny face if things aren't going so good. Finally, there's a Pregnancy Mode. A pregnant woman enters her pregnancy start date, expected due date and pre-pregnancy weight, and the scale tracks the weight change during pregnancy. After the baby's birth, the scale helps track progress towards the original weight.
Setup is quite easy. I already had the free Qardio app on my iPhone and was logged into the free Qardio account. To associate the QardioBase with my phone, all I had to do is step onto the scale while holding my phone with the app open, and it walked me through the setup process.
In day-to-day use, I just stand on the scale barefoot, watch for the smile telling me I'm standing on the QardioBase correctly, see my name on the scale's display, and then get the good (or bad) news. As soon as a final green dot on the scale disappears, I step off.
During a month of testing, I've had two or three situations where at the end of a measurement that dot has stayed lit an unusually long time and is then replaced by a "Wi-Fi Error" message. Generally, I can step off of the scale and then back on for another reading, and the next time the message is gone. Since the scale and Wi-Fi router are basically on opposite sides of the house and on different floors, I can see where both would occasionally lose contact with each other.
Conclusion
After having used a Withings Smart Body Analyzer (or whatever its predecessor was called) for quite a few years, I'm finding the QardioBase to be a refreshing change. Rather than a boring black slab, the QardioBase is a rather happy round scale that buzzes your feet and smiles when you're ready to get weighed. It's the same price as its nearest competition — that same Withings unit — and both are a bit more expensive than some models on the market. But if you're looking for a quality smart scale with a solid app, you can't go wrong with QardioBase.
Apple World Today Rating (out of 5 stars):
★★★★★