Back in the days when I was writing for "another website", I did a review of Olloclip's 4-in-1 lens for the iPhone 6 and 6 Plus ($79.99). Now while I love the fact that I can take ultra-wide angle, fisheye, and macro photos with my iPhone 6 Plus, I'm more of a fan of telephoto lenses. Well, it didn't take long for Olloclip to come out with the answer to my wishes with its new Telephoto + CPL (circular polarizing lens) for iPhone 6 and 6 Plus ($99.99).
The Telephoto + CPL lens follows the new design meme of snapping into a wearable lanyard pendant in bright green, light blue or black — it's nice to be able to carry your lenses without shoving them into a pocket where they might be scratched by keys. The lens kit itself has a total height of 1.08 inches (27.4 mm), a width of 2.22 inches (56.4 mm) and a depth of 1.37 inches (34.8 mm), weighing in at just 1.3 ounces (36.9 grams).
Like the 4-in-1 lens, the Telephoto + CPL is two-sided. On one side is the polarizing lens, which of course can be rotated to reduce glare and reflections off of water, metallic surfaces, or even dust in the air. I've always loved how polarizing filters can turn a somewhat hazy sky into deep blue, and how it reduces the myriad reflections that come off of lakes and oceans.
The other side of the lens is the telephoto. 2X doesn't sound like much, but it's quite nice for a lot of purposes. The very shallow depth of field provided by the lens is very handy for portraiture, as it's easy to get a nice bokeh effect (blurring in the background) while focusing on your subject.
The lens can work on either a 6 or 6 Plus, and either on the front or rear camera. A replaceable insert insures that the lens fits perfectly on whatever model of the iPhone 6 you have. Enough yapping; let's look at some photos! Below is my magnificent cat Pippin, taken with with both the standard iPhone 6 and Olloclip 2X telephoto lens
If you are looking for a capable photo editor that will spruce up your photos, look no further than Photo Editor by Aviary. Once developed by an independent company, Aviary is now owned by Adobe. Aviary Photo Editor is more than just a basic photo editor; the app includes a variety of artistic filters and other editing tools to transform a plain photo into something beautiful.
When you first open Aviary, the first thing you will notice are the wide variety of the tools aligned neatly at the bottom of the app. The available utilities run the gamut from the auto-enhance preset that fixes your photo in one step to the sliders that provide granular control over color saturation, contrast and more. The tools include enhance (presets), effects (filters), frames, overlays, stickers, orientation, crop, lighting, color sharpness, focus, vignette, blemish remover, blur, whiten, red eye, draw, splash, text and meme. These various tools are the main reason I use Aviary — I can open one app and do the bulk of my editing in one session. I don't have to save a photo and switch apps just because I want to brighten the highlights and apply a filter. Aviary allows you to do it all.
Because Aviary incorporates a variety of tools, there is a learning curve to using it. The app includes several presets that cover five broad categories of photos — high definition, Scenery, Food, Portrait and Night. Each preset attempts to perfect a photo by changing several attributes at once. When apply these presets, you'll notice changes in the color saturation, contrast, brightness and more. It's a quick and easy way to improve a photo, but it often misses more than hits. If I am pinched for time, I may run my photo to the auto-enhance, but most of the time, I opt for the fine-tuned controls available outside the auto-enhance option.
Aviary's manual tools can be grouped into two broad groups — those for improving photo quality and those for adding some creative flair to a photo. The former group includes lighting, color, sharpness, blur, whiten, and red eye. Each tool is self-explanatory with the red eye tool removing red eye, the sharpness tool improving clarity and so on. The other tools allow you to take your beautiful photo and get creative with it by turning it into a work of art or a comedy piece. Aviary includes tools for creating a meme, adding a drawing or placing some stickers on a photo. On the more serious side, you can add a filter, apply a vignette or change the focus to highlight a portion of the shot.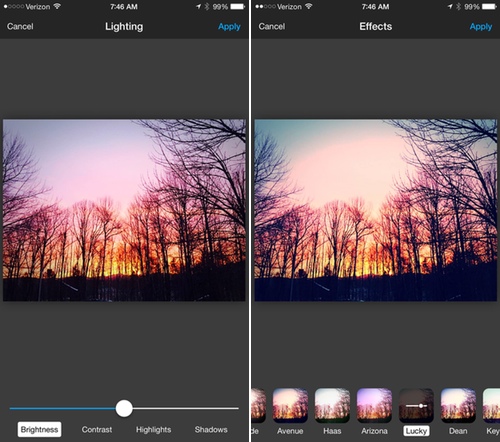 All of Aviary's tools operate in a similar manner — select the tool, change the settings to get the right tool size and intensity, use the tool appropriately and then hit apply to save the changes. You can easily compare your changes to the original image by tapping and holding on the image, which will display the original. Modifications are destructive and apply immediately to the photo. You can step back and forward through your edits by swiping left or right on the photo to undo or redo them, but you cannot go back five steps to your filter effect and change its intensity. Aviary does remember your editing so when you run out of time, you can stop at any point and pick up right where you left off.
My biggest critique of Aviary is its freemium pricing, which places a heavy emphasis on purchasing extras such as new filter packs, new frame bundles or a collection of stickers. Aviary ships with a default collection of these items, but you will quickly outgrow the stock choices. Each pack is reasonably priced at 99-cents and many are grouped into bundles, allowing you to save some money. Even though these extras are not that expensive, it's still tough to shake that feeling that you need to buy something at every turn.
Aviary also needs to improve how it manages this extra content that you purchase. When you buy a new filter, frame or sticker pack, it shows up along with the other content packs you own in one long list. So if you want to use your new bundle of stickers, you must scroll through all your other stickers in order to find the ones that you just bought. It would be much easier if you could arrange this content, so your most favorite ones or newly purchased ones are at the beginning of the list.
Last but not least, I would love to see Aviary add an iOS 8 extension to its app, which would allow you to edit your photos directly from within iOS' default Photos app. Currently, Aviary is functional only as a standalone app, requiring you to open the app and select the photo using the app's photo browser.
Aviary is available for free from the iOS App Store. It includes in-app purchases for content such as stickers, filters, frame packs and more. For the past few months, Aviary has been running a deal that allows you to sign into the app using your Adobe ID and receive all the in-app content for free. Using an Adobe ID within the app also allows you to sync your photo editing purchases to Creative Cloud so you will always have them. This promotion ends on February 19, 2015 although it has been extended a few times.