High-tech is a great choice of of home or apartment style for those who want to keep up with the looks of the future. Open space, strict geometry, abundance of metal and chrome, especially functional items – this style is hard to miss! But how do you embody its features in a house or an apartment?
High-tech interior story
How did it all start? For the first time, the high-tech style made a name for itself at the end of the seventies of the last century. This trend was born out of late modernism and launched a daring challenge to established traditions.The demand for this design peaked in the 90s and is still alive today!
Basic features
What are the representative details of a high-tech style?
° Rigor and clarity of lines – all should, at first sight, seem simple and unpretentious. The facades are made to hide built-in appliances and cabinets, hide practical shelves and drawers. It can be described as "complex simplicity".
° An abundance of glass, metal, plastic and concrete. It is industrial materials that play a central role. Wood and stone are hardly used, but they can also be masked. In such a style, there is no place for gilding, exquisite wallpaper and so on.
Partitions and sliding doors save space – these products are usually metallic, decorated with polimeric elements or even natural glass.
° Built-in lamps are placed literally everywhere – they are located in the ceiling, vertically, in the floor, etc. Lighting can be seen on the furniture, especially on glass or metal coverings with chrome coating.
° Special demands on colors – black, light shades, metallic grey dominate here.
The role of the decorations can be assigned to sculptures and paintings produced in an avant-garde spirit + b&w decor, photographs.
° Modern technology is on display – the most recent gadgets are not only used for their intended purpose, but also become elements of design t. Tubular structures and communications remain visible.
Walls, ceiling, floor
Solid concrete walls are a classic attribute of the style. One can also use plastic elements or metallic plates with a silver border. If the owners of the place can not refuse wallpaper, opt for monochrome designs. However, options with abstract patterns are allowed. You can also decorate the walls with rough stone or metal tiles.
The floor can be done with parquet. Do not place carpets, they usually do not fit the concept of high-tech. However, it is allowed to place a geometric throw in monochromatic patterns. You can also opt for porcelain or ceramic stoneware, laminated floors or linoleum.
The ceiling can be decorated with metallic panels. Shiny stretch fabric is also encouraged. The ceiling can also be set up in several levels.
Accessories
The decoration elements should be small, and all kept in the spirit of high tech. Use glass, ceramic, polimeric and metal decorative elements. When choosing mirrors, give preference to models without frames. The walls are decorated with abstract paintings, b&w photographs.
The furniture
This design emphasizes certain requirements for furniture. Sobriety, conciseness, and functionality are the main criteria for selection. Regular shapes, straight lines are also welcome.
Furniture should not decorate the room, but make it practical and comfortable, in order to fulfill its main purpose. This can be done with the help of nfoutlet, where you will find a lot of minimalistic, outlet furniture at a pleasant price!
Creative ideas are also welcome. For example, a chair may have three legs, not four; a sofa can be round and not rectangular.
Lighting
While embodying the elements of this style in an apartment or house, it is imperative to pay special attention to lighting.
A large chandelier on the ceiling is a bad decision. Opt for spotlights, or other kinds of small lamps and sconces.
The smoothness of shapes is not something to achieve, when talking about lamps. Sharp transitions and broken lines are welcome.
Acquire lamps and fixtures that resemble geometric shapes. These can be marbles, cubes, trapezoids, spheres, etc.
The shiny surfaces are the main distinguishing feature. Chromium, steel, silver, nickel are high tech favorites.
Allowed some unusual details. For example, you can arrange the ceiling spotlights according to a strict scheme, without taking into account the arrangement of the furniture.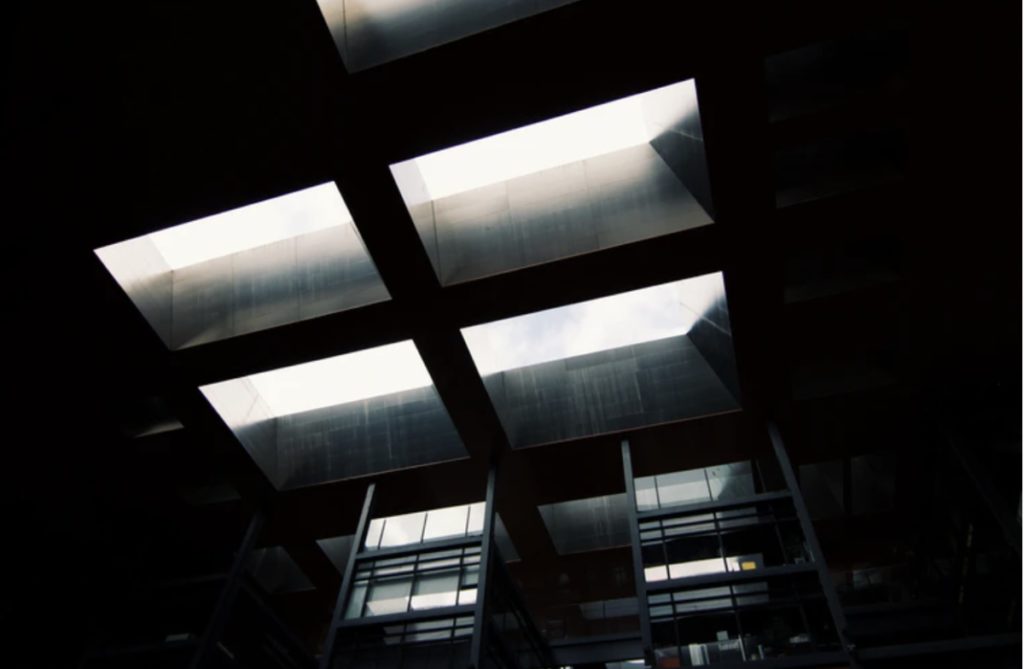 Entrance hall
The functionality of high-tech in the hallway is very simple to implement. The vibrancy of the style makes it an ideal choice for small spaces!
When choosing a floor covering, you may prefer linoleum, laminate or wood. A wonderful solution would be self-leveling floors, fascinating with their shiny surface. A comfortable rug will make a cozy entrance hall.
Walls should also be light and smooth, wallpaper should not be used. To decorate the walls, you can use several black and white photographs in metal frames. For the ceiling use PVC canvas and drywall.
The furniture can be decorated with elements of chromed metal and mirrors, which will visually enlarge the room. Converting products that easily change configuration is also welcome.
Bathroom
Glass and chrome surfaces will look great in this room. Moreover, you can choose silver, metallic, or gray, as the main tone. Light specks of blue, yellow and red will help revive and invigorate the looks (for example, you can add a light holder for toothbrushes). The walls can be decorated with monochrome tiles.
When choosing plumbing equipment, prefer a square or rectangular sink. Glass or metal are desirable. Such materials will emphasize a modern look. Remember about the mirror, which will also make the room lighter and larger.
Living room
High-tech looks can also be achieved in the living room, and are quite simple to implement. The use of translucent stone or red brick panels is welcome. If the choice is made in favor of wallpapers, their design should be monchromatic. The ceiling can be laid out with light colored canvases suspended or stretched.
The huge central chandelier also does not fit into the concept of high tech. It is preferable to prioritize to point lighting. When choosing furniture, preference should be given to products in bright colors, with a laminate coating.
Furniture doesn't have to be big, it requires simplicity and functionality. The role of decorative elements can be taken by large vases, cushions, fancy figurines, abstract paintings.
What else should be remembered when designing the interior of the living room in a high-tech style? An important role is attributed to a modern cinema on the wall or a large electric fireplace.
Bedroom
In this room, it is better not to use ceramic tiles and linoleum, otherwise it will visually become too cold. Instead, use laminate in pastel colors or a parquet floor.
Overloading the bedroom furniture is not worth it. When choosing such items, give preference to multifunctional structures. The center of the room can be crowned by a bed without a headboard, equipped with built-in lighting, which will create an elegant and original atmosphere.
In this room, it is not recommended to use too much plastic, metal and glass. Soften the atmosphere in the bedroom with the help of textile decor elements.
Dining area
One of the most frequently used rooms in a house or apartment is the kitchen or dining room. Here, shades of b&w and gray can be set up as dominant. The floor can be decorated with linoleum, tiles or stone.
Built-in cupboards are also a great acquisition for such a room. Their use will help avoid difficulties with the placement of cooking utensils. The facades can be plastic, steel, acrylic.
What solutions absolutely do not fit the strict high tech design?
Abandon all textures with a natural base and warm colors. Furniture made of natural wood does not fit into this style, even if it is in a chromatin harmony with other elements. It is also better to abandon everything that is traditionally associated with the classics.
You should not focus on wallpaper – it is desirable to choose other finishing materials for wall decoration. The abundance of souvenirs and textiles is also strongly discouraged.
If you are not a person who needs many items in their home, who cherishes the feeling of warmth and coziness, if you rather find minimalism comfortable, then the high-tech style is absolutely suitable for you!