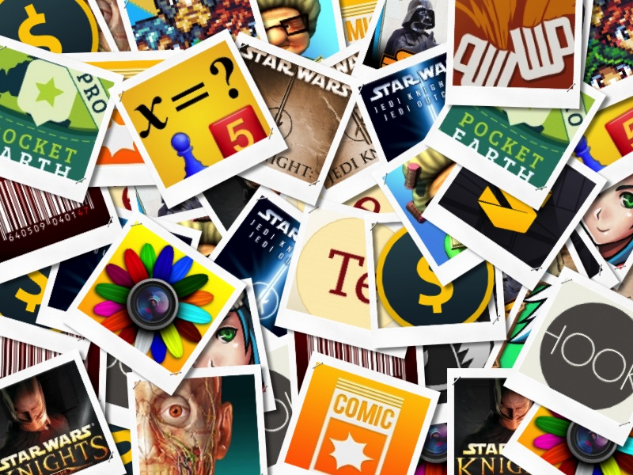 Here are some of the best free apps, app updates and new apps that have landed in the App Store recently. Today's notable apps include a discount on Terminology 3, the new Money Pro from iBear and a significant update to Scout GPS Navigation. All app prices are USD and subject to change. Some deals may expire quickly, so grab them while you can.
iOS Apps Now Free
Chess – SocialChess [Now free, down from $0.99] SocialChess is a fun way to play fast or slow chess with friends or with random opponents!
iComics – The Comic Reader for iPad and iPhone [Now free, down from $1.99] iComics™ is a Universal app designed for iPad, iPhone and iPod touch that allows you to read DRM-free comics from your own collection, quickly and smoothly!
"HOOK" [Now free, down from $0.99] "Hook" is a relaxing, minimal, puzzle game. It is more of a game-like experience than a challenge. No menus, no achievements, just you and a puzzle.
Gangster Granny [Now free, down from $0.99] Follow Gangster Granny on her way out of the prison. Help her defeat anyone who dares to try and stop her from robbing the biggest bank in the city!
iOS Apps On Sale
FX Photo Studio – Camera & Photo Editor with Filters, Effects, Frames plus Color Editing for Perfect Pictures [On sale for $0.99, down from $2.99] FX Photo Studio is the biggest collection of photo filter effects available on iPhone, with stickers, borders, fonts, textures and frame effects to help you snap the perfect photo.
Terminology 3 – Extensible Dictionary and Thesaurus [On sale for $1.99, down from $2.99] Terminology is a browser for the English language – part dictionary/thesaurus and part research tool.
Hands-On Equations 1 – The Fun Way to Learn Algebra [On sale for $3.99, down from $4.99] The app takes advantage of the iPad's and iPhone's visual and touch features to demystify complex algebraic concepts.
Beer Buddy – Barcode Scanner [On sale for $0.99, down from $3.99] Over 300,000+ beers and millions of user reviews at your fingertips. Browse and rate beers from every brewery, as well as find nearby stores, restaurants and bars all serving and selling beer.
Pocket Earth PRO Offline Maps – GPS Navigation Map & Travel Guide [On sale for $0.99, down from $2.99] • Detailed worldwide maps and travel guides • Works completely offline even with GPS • Great when abroad, NO data roaming charges • All data FREE, no in-app purchases • Online routing and much more!
Darklings [On sale for $0.99, down from $1.99] Experience unique gesture driven gameplay blended with awesome noire artwork carrying the touch based games to a whole new level. Save the stars, save the world. Darkness is coming!.
Discounted Mac Apps
Human Anatomy Atlas- 3D Anatomical Model of the Human Body [On sale for $24.99, down from $29.99] Great visual study guide for medical students studying for the MCAT. This 3D guide of the human body is also popular among doctors. Studying for your MCAT? Download Human Anatomy Atlas today!
Hitman: Absolution – Elite Edition [On sale for $9.99, down from $24.99] Become Agent 47, a genetically-engineered killer, and use your skill and ingenuity to turn assassination into an art.
Star Wars® Jedi Knight: Jedi Academy [On sale for $4.99, down from $9.99] Forge your Weapon and follow the path of the Jedi Star Wars® Jedi Knight®:
Star Wars®: Knights of the Old Republic™ [On sale for $4.99, down from $9.99] Star Wars®: Knights of the Old Republic™.
Star Wars Jedi Knight II: Jedi Outcast [On sale for $4.99, down from $9.99] In the tradition of the highly acclaimed Star Wars: Jedi Knight series, Star Wars®: Jedi Knight® II: Jedi Outcast™ features rebel agent Kyle Katarn in exhilarating first-person action.
New and Notable Apps
Trulon [$4.99] Enter a world of steampunk and magic by experiencing the debut title of the Trulon series. Trulon – The Shadow Engine is an adventure RPG with a unique card combat system.
Destiny Emerald [$2.99] Classic 16-bit action RPG using a whole family of adventurers. Traverse massive dungeons, collect tools, and fight devious monsters!
Money Pro – Bills, Budgets and Accounts w/ Sync [$9.99] Money Pro is the one place for bill planning, budgeting and keeping track of your accounts. Easy sync with iPhone/iPad versions. Money Pro works great for home budgeting and even for business use.
Updates you don't want to miss
Star Wars™: Card Trader [Free] STAR WARS™: Card Trader. These are the cards you're looking for…. Version 1.0.2 includes the following changes:
Thousands of new fans have joined Star Wars™: Card Trader and we've been working hard to accommodate all those wonderful new fans.
Small bug fixes
Stability improvements to reduce crashes significantly
Scout GPS Navigation, Maps, Meet Ups & Traffic [$Free] Meet up without the hassle of using multiple apps to coordinate, communicate, and navigate.. Version 2.2.0 includes the following changes:
New! See all your friends coming to your event on the Meet Up map at the same time.
New! Get notified when your friends start driving to your Meet Up and see their ETAs.
New! Explore nearby restaurants, coffee shops, gas and more in our easy to use search tool.
New! Meet Up reminders and interface – Scout will remind you within one hour of your Meet Up and with an improved interface so you can see all your Meet Ups in one spot.
Lastly, your feedback counts and we've been working on fixing those pesky bugs you reported. Please let us know how we're doing.